I Just Can't Be Happy Today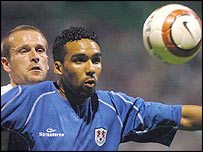 No-one likes us, we don't care!

How Millwall can be out of that tournament, I don't know. Totally outplayed the Hungarian champions over two legs, but go down 4-2 on aggregate. The 3-1 scoreline tonight was nowhere near a reflection of the game, but, I suppose if you cannot put the ball in the back of the net, you suffer the consequences. The young Scottish winger Sweeney came on in the second half and should have grabbed a couple of goals, but couldn't quite connect properly. Oh well, out little European adventure was fun, even if all to brief!
I watched the game in my local, which I have never seen so busy, packed to the gunwales with south London's finest. My particular favourite song, was late on and with our League Cup game at home to Liverpool on the horizon, one wag sang, to the tune of You'll Never Walk Alone:
"Sign on. Sign on.
With a pen in your hand
Cos you'll never get a job
You'll never get a job."
I love Millwall and I love their fans.
I get home to hear that the anti-democratic, monarch-loving team from Govan get through on penalties against the mighty Maritimo (who they?) of Portugal - but no doubt they sang songs of how all social classes should unite in a show of solidarity and struggle against the evils of our society? I sit holding my breath.
No complaints with the Celtic score on Wednesday night, however. Once again, specifically in the first half, we were at the receiving end of a football masterclass a la the game against Barcelona a few weeks ago. That it wasn't at least 4-0 to the Italians at half-time was a miracle. We used our best European tactics in the second half - muscling the opposition off the ball and sticking the boot it - but that did nothing to hide the fact that Celtic cannot compete against decent foreign opposition.
Some may remember my comments re the screechin banshee from that game. Well, she was there again.
I was accompanied this time by a Hibees' fan, who stated, with apologies to modern sensibilities: "Someone should kill that Weedgie bitch - her fucking screamin' is like a drill going straight through yer brain." After challenging his sexism and his anti-west coastisms, I heartily agreed with said comments. I could do nothing but agree with the bloke who responded to her ultra-falsetto shouts at the third Miland goal of "Ah fuckin knew it. Ah pure fuckin knew it, by the way" with the riposte: "Then why the fuck did ye no stay in the fuckin hoose, hen?"
She nips the heid so badly that I am considering not watching the next Celtic game. I cannot stress enough how bad her screaming is and there are no comparisons that can be used to show how bad she is - she is a unique nightmare of an animal.